Press Release - Oct 2014
PRESS RELEASE
OCT 2014
Hair Doctor is 'Ahead' of Competition with 2014 Best of Arlington Award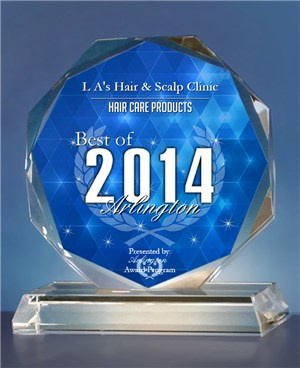 Dr Amerson's Hair & Scalp Clinic has been awarded a prestigious for the Arlington Award Program 2014 in the category of Best Hair Care Products Company. This is an award that recognizes business which has performed exemplary in different category. The companies which are selected for the awards must have achieved exceptional marketing success in their local community and business category. The local companies which are recognized for these awards enhance a positive image of small business through services to their customers and the community at large, making the Arlington area a great place to work, live and play. Selection of the winning companies includes collection of information on different parameters, the data is then analyzed and the winner determined based on the quality of the services and products by a given company. The annual award seeks to recognize the best performing companies in the Arlington Area. Any company which is selected for any category is a force to reckon with in terms of the products and services given the customers.
Dr Amerson's Hair & Scalp Clinic is known for quality products and services. The company which operates under the slogan which encourages those who have had hair loss and scalp disorder to get to the root of their problem has won the heart of many through the kind of products and services they have been providing to those who have these hair issues. Their product has anti bacterial and fungal properties; it is ideal for dry or oily scalp, cleanses clogged hair follicles, increased scalp circulation and repairs damaged hair. It controls eczema, sebborrheic, dermatitis and psoriasis. It preserves the scalp elasticity and repairs damaged hair. It also strengthens hair fibers, restores hair loss, and stimulates healthy and new tissue growth among other numerous benefits.
Customers who have bought and used Dr Amerson's services and products, attest to the fact that she is the best when it comes to quality services and products. It is evidently clear that a business which concentrates on satisfying its customer records high sales and eventually profitability and phenomenal growth. Customers and partners will always regard the business highly and this clearly explains the exemplary performance of the Dr Amerson's Hair & Scalp Clinic. It is out of giving customers a product that meets and even surpasses their needs that a business like this got the award. One customer who has been Dr Amerson's client for more than two years testifies that her form of alopecia has been reversed. The customer confides that after using the products from LA's Hair & Scalp Clinic, she saw some positive results. The customer continues to say that Dr Amerson has a caring spirit and encourages her customer to have a positive outlook on achieving new growth. While praising LA's Hair & Scalp Clinic products, the customer concludes that they are wonderful, leaves the hair soft and healthy and she would always go back to Dr Amerson for any hair and scalp treatment.
CONTACT:
CEO/Dr. Linda Amerson
LA's Hair & Scalp Clinic
2304 W. Pioneer Pkwy, #6
Arlington, TX 76013
817 265 8854
dramerson@hairandscalpessentials.com