Power of 3 Women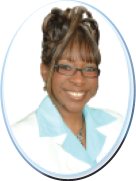 Mother's are the heartbeat of the home. Mrs. Cecil Amerson was the teacher, nurturer, nurse, adviser, correction officer, herbalist, amazing cook, fashion seamstress, house cleaner, finance manager, and so much more to list. I am the youngest of 6 children...3 boys & 3 girls. In the Amerson household, mom and dad instilled Christian values, and love for family. Mom always called me the 'knowledge seeker', introduced me to scented powders, perfumes, and the pressing comb. Her gift of using her hands to create beautiful things was passed on to me. My siblings have told me I have her penmanship. She taught me I needed an education to become independent, to always take pride in appearance, to be nice, respectful to elders, how to cook, the importance of volunteering, pray daily, and to remember the sky is the limit in my career choice. Married to my father for 55 years, then gained her wings 12/27/2004. Happy Mother's Day!
Dr. Linda Amerson is an entrepreneur, philanthropist, radio host on Ask Dr. Amerson & syndicated journalist. www.hairandscalpessentials.comaction .
I do hope as women we are inspired to be the best mother from the core of who we are. Mothering is not always by example but by instinct. My Mother Valder [we share the same name] born at a time when women of color had no power yet she made a life for her and for her family. My mother [and father] raised four children in the post Jim Crow South, yet shielded me and my three siblings from racism and hate. I now know this because I am a mother and I understand how it's the parent's duty to protect their children. My family traveled from military base assignment to assignment and we always traveled by car. When it was time for a new duty station we packed up our belongs and traveled cross country by car. My mom would always make it an adventure for us kids to look forward to. Before beginning our adventure we map out our route, studied the profile of the new destination. We marked the historical and significant places along the way. We selected times we would stop for picnics and have family or friends lodge us for the night.
To us as children this was always anticipated fun. Now that I am adult I remember in our car The Negro Motorist Green Book ( or titled The Negro Travelers' Green Book) was an annual guidebook for African-American road trippers. The Green Book was always sent in the mail by my Aunt Roberta from New York. It originated and was published by a New York City mailman Victor Hugo Green from 1936 to 1966. So as you think of your children on this Mother's Day know that you will do your best to protect them. This is the greatest gift of all. Happy Mother's Day!
Valder Beebe is an American radio host and journalist. Her interviews are found at www.ValderBeebeShow.com
What I remember most about my mom, our home was always full of children, and she was the center of attention. Esmer Lee Sadler, was a lady and an officer. She was petite with a very precise voice. She was an English major, so everything was done with perfection and precision.
Our home was spacious, a large yard, front & back, fruit trees and animals. What I remember most about my mother is her stories, her positive approach to life...how she raised her children and everyone else child. With 4 siblings, cousins and neighbors kids...about 40!
We were adored children, and my father was the provider. She was a homemaker who ran everything. All children took music...a musically close family. She taught Sunday School for 34 years, and volunteered often. Married to my dad for 55 years. She changed her address Christmas Eve 1991. Happy Mother's Day!
Dr. Ester Davis, journalist, radio and TV Host www.esterday.com