The Power of 3 Women celebrate the Women of Hamilton Park UMC Dallas
(L) Terry Allen, Valder Beebe, Ester Davis, Dr. Linda Amerson Photo Credit: Photograpy-by-james
Rev Dr. Sheron Patterson is the senior Pastor at the historic Hamilton Park UMC. She is also a glass ceiling breaker by being the first female pastor at HPUMC. We salute Rev Dr. Patterson for her leadership, and her history breaking career. At Hamilton Park UMC now fondly known as The Park, we The Power of 3 Women celebrated the women of Hamilton Park with our namesake award, The Power Award. We bestow The Power Award upon individuals who are powerful in their home, church and community. Nine women were select on May 6th to be celebrated in the Serenity Garden at Hamilton Park with church members, family, friends and the press in attendance.
Sunday, May 6th, a beautiful spring day ceremony among the roses and annual flowers of the Serenity Garden was a memorable event that was well attended. The mistress of ceremony, Cheryl Smith, Publisher of the Garland Journal News, iMessenger and Texas Metro News presided over the event. Saxophonist Thom Brownlee and official toast master, Terry Allen, CEO of City Men Cook & Sister CEO saluted all women in attendance with smooth jazz, beautiful words and a formal raising of glasses.
The Power Award was given by Ester Davis, Dr. Amerson and Valder Beebe, the consortium, The Power of 3 Women. The consortium is known for their individual and collective brand. Collectively our broadcasts on radio, TV, print and digital print publications reach 428+ million audiences and our audiences are growing. Those numbers translate into big sales for the products and services for our advertisers and sponsors.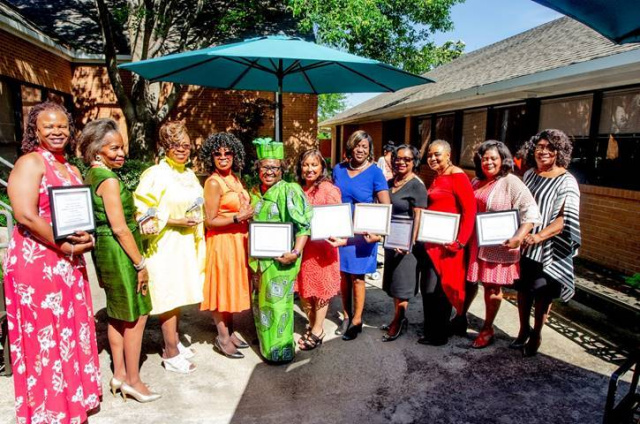 The Power of 3 women and all in attendance celebrated with words of adulation to the nine women of Hamilton Park in grateful recognition of their dynamic, steadfast, mesmerizing performance in their home, church and community; Nancy Williams, Doris Vance, Cheryl Hopkins, Elgie Loyd, Sheryl Zeno, Pat Jackson, Catina Powell [SROW], Shirley Pleasant and Tameka Ramos. Also the Hamilton Park women's group SROW received award recognition through their president Catina Powell. This award also recognized all the women of SROW [Status & Role of Women]; Carolyn Hill, Doris Vance, Lois Johnson, Avis Green, Jerri Turner, Yvette Paul, Joyce Fleming, Toni Armant, Evelina Barryon, Robin Beasley, Laura Bruton, Cheryl Hopkins, Carolyn Madere, Brenda Napier, Francis Parker, Debbie Scott, Mallory Polk, Kelley Hopkins, Freddie Roberson, Mary Bowens, Willese Holland, Monica Fagan, Donna White, Tabitha Fornville and Cherlyn Lacy.
Do you have women at your church that you would like to celebrate with The Power Award event from The Power of 3 Women? Contact Erika Brown, publicist 214-982-0126.